INVITATION TO QUOTE Invitation to quote for the provision of shuttle bus services for cruise ship passengers for the 2017 season on behalf of Visit Belfast. Closing...
Belfast City Council Tenders All tendering opportunities can be viewed on our website at www.belfastcity.gov.uk/tenders T1771 - Collection and recovery of vehicles and...
TENDER OPPORTUNITY New to view this week All tender opportunities are available to view and can be downloaded under current opportunities at www.esourcingni.bravosolutions.co.uk...
Taking the Initiative Network - An Evaluation CRUN (Causeway Rural & Urban Network) invite applications for the provision of Evaluation Services for the Taking the...
Main Contractor for Improvement Works on the Pedestrian Bridge at Lake View Road, Craigavon. Works to include Replacement of the Existing Hand Rail, Installation of Feature Lighting and...
RE-ADVERTISEMENT APPOINTMENT OF AN INTEGRATED SUPPLY TEAM (CONTRACTOR) FOR A NEW VISITOR CENTRE AT DAVAGH FOREST, COOKSTOWN REF: MID/T/2017/007 Mid...
TENDER FOR SUPPLY & DELIVERY 2 NO. 5.2 TONNE TIPPER CREW CABS & 1 NO. MEDIUM VAN REF: 1617 TNDR EP 026 Tender submissions are invited for the supply &...
Ards and North Down Borough Council Tender For The Provision Of An Integrated Tourism, Regeneration And Development Strategy 2017-2022 Documentation for the above...
The Northern Ireland Housing Executive wishes to advise tenders that all Housing Executive tender opportunities for Supplies, Services and Works can be viewed on the Housing Executive...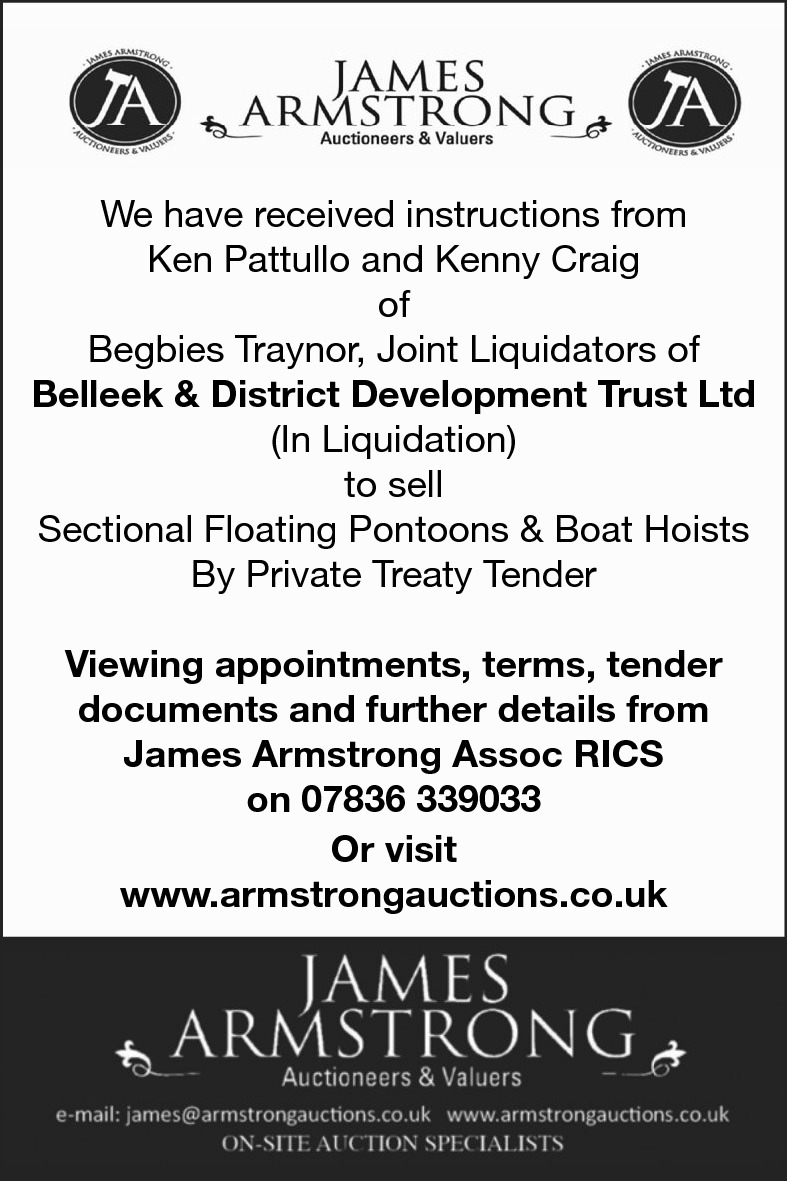 We have received instructions from Ken Pattullo and Kenny Craig of Begbies Traynor, Joint Liquidators of Belleek & District Development Trust Ltd (In Liquidation) to sell Sectional...
Virginia Fire Station Cavan County Council is inviting tenders from competent building contractors to tender for Virginia Fire Station, Virginia, County Cavan. Full details can be found on...
Tender for the Appointment of a Web Design and Development Company Belfast's Grand Opera House is seeking Expressions of Interest from companies experienced in web design and development....